Pupils fend for themselves in Staffordshire cabins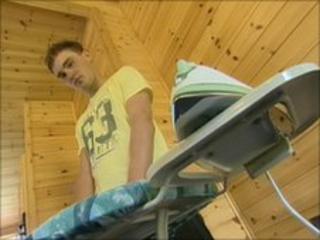 Sixth-formers, who are getting ready to leave home, are being sent to cabins in their school grounds to learn to look after themselves.
Pupils at private Abbotsholme School in Staffordshire get to cook, clean and generally fend for themselves so life outside school is not a complete shock.
Head teacher Steve Fairclough said the idea was to get students used to living away from home.
"When they go to university, they can concentrate on learning," he said.
The cabins are in the grounds of the Rocester school and six pupils live in them at any one time.
A cleaner visits once a week to show the students how it should be done and the pupils form their own cooking and cleaning rotas.
"Being growing boys, a lot of them come and eat in the school canteen as well as cooking their own meals," Mr Fairclough said.