Man convicted of beating girlfriend to death in Barnet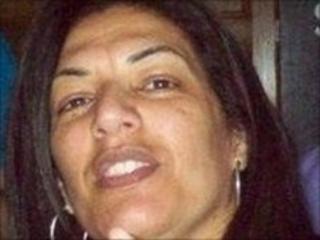 A man who "mindlessly" battered his girlfriend and left her for dead has been found guilty of her murder.
Maria Colaco, 50, was found at her home in Barnet, north London, with car-crash type injuries, the Old Bailey head.
Andrew Gaffney, 39, of Richmond Road, Barnet, confessed to his mother about the New Year's Day attack.
Miss Colaco died days later from her injuries. Gaffney, who denied murder, called 999 the day after the fatal attack to say his girlfriend was hurt.
Gaffney, a betting shop manager, told the court that he lost control after his barmaid girlfriend lashed out at him during a row.
Confessed to mother
Gaffney was very drunk when he left the Winter's pub in Finchley with Miss Colaco, who had been working there, the court heard.
During a row at her flat in Simmons Close, Whetstone, the Gaffney punched her repeatedly leaving her with brain injuries.
After the attack Gaffney went home and told his mother Joan: "Mum, I have hit Maria many times. The police will be coming round shortly to arrest me." He also tried to call his son.
The court heard Mrs Gaffney was concerned for her son's girlfriend and tried to call her.
After he woke up the next day she asked him to find out how she was.
He then called 999 to say Miss Colaco was "seriously injured" and that he had assaulted her, the court heard.
Duncan Penny, prosecuting, described the assault as a "brutal, drunken and ultimately fatal attack".
He added that after Gaffney's arrest he said: "I deserve all the hurt I get after what I have done."
In a victim impact statement Miss Colaco's daughter Jordana Carr said: "This violent, mindless act has completely devastated my family.
"I have lost my beautiful mum, who was always a lovely, outgoing, caring person. She had a heart of gold and completely doted on her four grandchildren."
She added that her mother would have survived if Gaffney had got medical help after the incident.
Gaffney will be sentenced on Tuesday.