Holmfirth pedestrian crossing cannot be used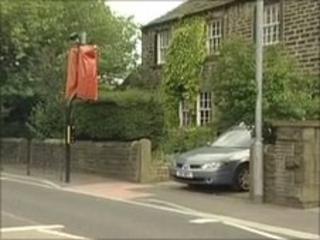 A £130,000 pedestrian crossing installed in Holmfirth two years ago has never been used because it is in front of a driveway to a house.
Kirklees council granted permission for Robin and Angela Wray's drive months before giving the crossing approval.
When they realised it would be unsafe to use the crossing, officials issued an order to stop cars using the drive.
A public inquiry has now overturned the ban so the council must meet again to decide what to do next.
The council said the complex situation had arisen because the Wrays were mistakenly granted planning permission for their driveway in 2007.
The lights and road markings were completed in spring 2008, but orange covers have hidden the lights since then.
Mr and Mrs Wray, both retired teachers, said the legal wrangle with the council had blighted their lives.
"It has ruined our first four years of retirement," said 66-year-old Mr Wray.
He recalled how the council informed them in late 2007 that the crossing was to be constructed directly in front of their house despite giving them permission to build the driveway.
"We received an email just before we went on holiday saying, 'Don't leave your car in the drive because it may be blocked in when you come back'," said Mr Wray.
"During that time Kirklees [council] put in a bollard in front of our drive, cemented into the floor.
"If that's not intimidating, well it's threatening and we shouldn't have to put up with it."
Mrs Wray, 63, said it had been a "difficult" time but neighbours had "stood shoulder to shoulder with us".
The council's Valley Area Committee will meet to decide whether to remove the crossing at a cost of £30,000.