More hazardous material being dumped in Devon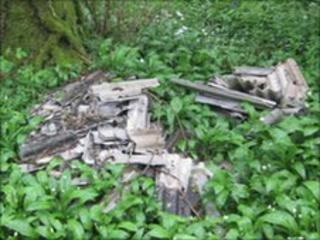 More hazardous material is being illegally dumped in remote spots in Devon.
East Devon Council's specialist cleaning team normally deals with about 400 fly-tipping incidents a year.
But the council said there has been a worrying rise in the amount of asbestos being dumped.
Asbestos can be dangerous and the council has warned members of the public who may come across it to leave it.
Corrugated asbestos sheets have recently been found next to a footpath at Bickham Wood.
Jail sentence
Andrew Hancock, from the council's street services, said: "It's pretty safe when it's in board form as long as you don't tamper with it.
"But if you stand on it and break it, the particles can be released into the air and that's when it can cause you harm and get into your lungs."
Hazardous materials are dealt with by the React (respond, enforce and clean) team in protective suits and masks, but the council said it is an involved and costly process.
Penalties for illegal dumping range from £80 on-the-spot fixed penalties to fines of £50,000 or, in the most serious cases, two years in jail.
Anyone having asbestos removed from their property must ensure it is correctly disposed of by a licensed contractor.