Damning report on state of Afghan security forces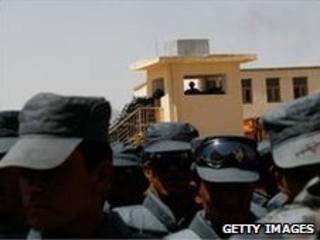 The US and its partners have no effective way of monitoring how successfully Afghan forces operate on their own, US auditors say.
Handing over security is key to US strategy and the report jars with previous upbeat assessments.
Only 23% of Afghan soldiers and 12% of police can work unsupervised, the report says.
Auditors also found widespread absenteeism, corruption, drug abuse and illiteracy among Afghan forces.
The report by the US Special Inspector General for Afghanistan Reconstruction (Sigar), Arnold Fields, is the first objective look at the system the military has used for the past five years to rate the effectiveness of Afghan forces.
The rating system has now been scrapped.
'Thieving officers'
Among Sigar's findings is that, as of March 2010, 12% of the army and 17% of the police were absent without leave.
The National Civil Order Force, considered the police's "premier force", lost nearly three-quarters of its men inside a year.
Reasons given for "attrition" were insurgent action and "disappointment over pay levels".
Even these figures may understate the scale of the problem facing Afghan security forces, the BBC's Quentin Sommerville reports from Kabul.
In one northern province, a police force which had received a top rating had, in fact, disintegrated when the area was overrun by insurgents.
Inspectors were unable to visit because it was too dangerous.
The report found that corruption was holding back improvements in police training and morale.
Senior officers had, it said, been stealing pay and fuel, and selling on weapons. Some police stations lacked running water or electricity.
The head of US training, William Cauldwell, said the report was inaccurate, outdated and damaging.
However, the senior US commander in Afghanhistan, Lt Gen David Rodriguez, said the general picture painted by the report and its specifics were correct.
The US has spent some $27bn (£18bn) on training Afghan security forces over the past eight years.