Council plan funding breakdown is revealed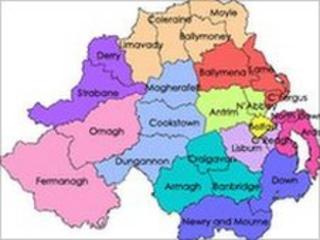 The Department of the Environment has given a breakdown of the £9.5m it spent on its failed attempt to reform local government.
Earlier in June, the executive failed to agree a plan to more than halve the number of NI's councils to 11.
The Environment Minister, Edwin Poots, has detailed how the money was spent. It was in response to a written question from SDLP MLA Patsy McGlone.
Almost half of the money went on departmental administration.
Other large sums were spent on funding for the local councils' transition committees and the boundaries commissioner.
The breakdown is the department's spending to the end of May 2010 on local government reform under RPA.
Breakdown
Departmental administration costs: £4,256,000
Strategic leadership board/policy development panel/taskforce costs: £422,000
Support funding for NILGA specific to reform programme: £1,106,000
Support for modernisation projects: £102,000
Transition committee costs: £1,729,000
Consultants' fees: £691,000
Local government boundaries commissioner: £1,259,000
Total: £9,565,000