Man guilty of £40m Graff jewellery robbery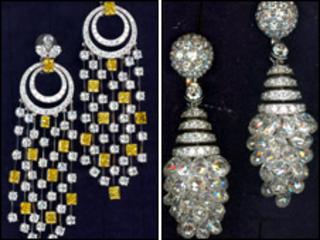 A second man has been convicted of taking part in a £40m jewellery robbery.
Thomas Thomas, 46, of East Finchley, north London, has been found guilty of conspiracy to rob Graff Diamonds in Mayfair, central London, last August.
David Joseph, 23, of Southwark, and Courtney Lawrence, 31, of Ladbrooke Grove, were cleared of the charge.
Aman Kassaye, 25, of Battersea, has already been convicted of conspiracy to rob, kidnapping and possessing a gun.
Thomas was found guilty by majority verdict.
His role was to use a truck to block traffic in nearby roads - allowing the gunmen to escape in a getaway car.
Robbers 'disguised'
The gems stolen in the "high stakes" raid have never been recovered, despite being laser stamped with an identifying code.
One diamond necklace alone has been valued at £3.5m.
The court heard raiders used professional make-up to disguise themselves and shot at anyone who got in their way.
Kassaye's defence was that the raid was carried out "by someone remarkably like him".
But he was recognised by shop assistant Petra Ehnar, who was held at gunpoint in the raid.
The jury at Woolwich Crown Court is considering charges on three other defendants, including 25-year-old Soloman Beyene, alleged to be Kassaye's right hand man.
Also awaiting verdicts are Clinton Mogg, 43, of Bournemouth, and Craig Calderwood, 27, of no fixed abode.
It is thought underworld bosses who planned the raid have never been caught.