Warning after faulty disability scooter scam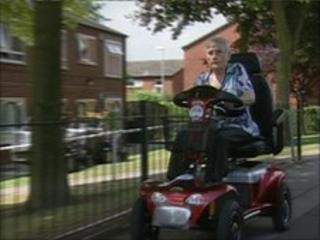 Elderly people are being warned to be on their guard against cold-callers after an elderly Stoke-on-Trent woman said she was sold a faulty scooter.
Molly Priest, 82, from Fenton, bought a mobility scooter for £2,000 - but it stopped working three weeks later.
She spent £500 replacing faulty batteries but the salesman had left no paperwork.
Trading Standards urged caution whenever dealing with cold-callers.
Difficulty
Mrs Priest said: "I'm very annoyed because it's the first time I've ever been done. I've lost a lot of money.
"It's the only way I can get about because I'm on my own. I've had two strokes and I have difficulty walking."
Stuart Lee, of legitmate business Total Mobility in Stoke which sells and repairs scooters, said: "Unfortunately, because they are dealing with elderly people they can knock on the door and get away with it."
In the first half of last year, the government advice service Consumer Direct said trading standards services across the UK dealt with 387 cases of misselling of mobility scooters.
In the first half of this year that figure had risen to 470 cases.
Brian Mycock of Staffordshire Trading Standards department said: "If somebody rings you out of the blue offering to sell you a mobility scooter I would tell people to treat it with an element of caution."