Trust to survey estate wildlife in Norfolk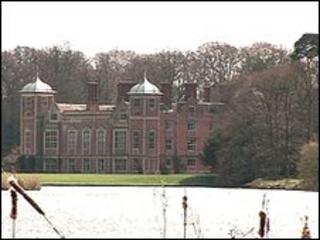 A National Trust wildlife survey at the historic Blickling Hall estate in Norfolk has got under way for the first time in almost 30 years.
The national Biosurvey team will check out the plants, animals and habitats during the week-long project.
The survey is looking for changes due to management of the estate over the past three decades.
It hopes to uncover species that might need particular care in the future and will look at semi-natural areas.
Ornate brigadier
Head warden Dave Brady has also worked to create a home for "a newly invigorated population of wild brown trout", the trust said.
The team is being led by ecologist Pete Brash and will focus on areas of the estate including the River Bure, which is home to otters.
He said: "What Dave's done is remarkable.
"The river and its wildlife were really suffering due to build up of silt, so Dave stepped in and pioneered a new management technique that changes the water flow of the river revealing the gravel beds the trout need to breed.
"It's only been 18 months and already we've seen excellent signs of recovery - it's a huge success story."
Mr Brash said he was also optimistic about what else might be discovered on the estate.
"Blickling's a massive estate, and so much has gone on there since our last official survey so we're hoping to find some new things," he said.
"We'll be looking for rare water beetles in the river and I'll be hoping to find soldierflies, some of which are rare, spectacular and have been given very silly names such as the orange-horned green colonel and the ornate brigadier."