Cardiff maths whizz gets first class degree aged 15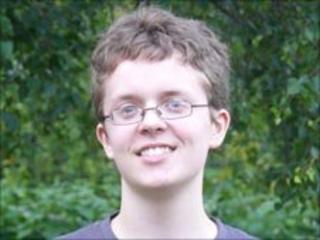 A maths whizz has just gained a first-class honours degree in the subject from Cardiff University, aged just 15.
Alex Thorne, from Gwaelod-y-Garth, Cardiff, scored 100% in two of his final exams. He went to university after getting A-level maths aged 12.
He now plans to combine sitting his GCSEs at King's Monkton School in Cardiff with a masters degree over the next two years.
Because of his age, Alex's mother Sara had to attend his lectures with him.
Alex said after passing his A-level, he had originally planned to do the further maths A-level, but changed his mind.
"Ultimately I decided that [university] was the better route to take and I think it was.
"The third year [especially] has been very testing. All the students found it very testing - I definitely wouldn't call it a doddle but it's been great.
Despite his obvious aptitude the the subject, Alex said it was not a question of going in and understanding everything immediately.
"I didn't get it instantly. There are various points where there are things that are difficult to understand. After lectures I'd sit down and think about it until I understood it and if I couldn't I'd see the lecturers.
"A lot of my lecturers say understanding is much more important (than remembering). If you can't remember something you can just look it up in a book."
He will now on the surface resume a life similar to any other 15-year-old, doing GCSEs, but unlike his peers, combining that with research into gravitation for his MPhil degree at Cardiff University.
Sara Thorne said Alex had shown an interest in maths from a very young age.
"When he used to come home from nursery he used to have 'Alex's school', and I had to give him sums and writing to do.
"When he was in primary school, it's usually a treat to have colouring to do, but he hated it, so I had to ask the teacher to give him extra sums to do instead.
"He's probably good at everything except sport, but he doesn't like a lot of subjects because he likes to see they have a concrete meaning."
As well as GCSEs, Alex will probably sit his physics A-level next year as well, and is likely to go on to do a PhD after his master's degree.
Mrs Thorne said for all his unusual academic activity, Alex was still very much like other boys of his age.
"He spends hours on his computer and he loves computer games.
"He is very useful if you need your computer fixing," she added.