Cornwall Council top earners should accept 5% pay cut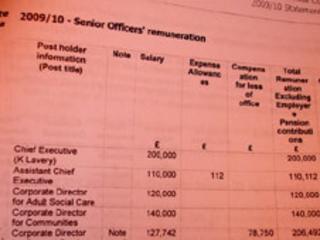 Senior council officials in Cornwall should accept a 5% pay cut, a councillor has said.
Cornwall Council revealed that employing 30 high-level officials cost a total of more than £3m last year.
The most expensive was chief executive Kevin Lavery, who cost nearly £239,000 a year including employers' pension contributions.
Councillor Alex Folkes said people in Cornwall would be "utterly shocked" by the figures.
The average salary in Cornwall is less than £23,000 a year.
In the council's statement of accounts for 2009 to 2010, 30 other council officials earned more than £100,000 - in the previous financial year, only eight employees earned that amount.
The council told BBC News the number earning in excess of £100,000 in this current financial year is seven.
Some of the high salaries last year were the result of local government reorganisation, which saw six whole councils completely abolished last year.
Mr Folkes, a councillor for Launceston, said he accepted some officials who were given additional responsibility with the new might have deserved a pay rise.
'Looming cuts'
"But some of the figures are quite horrendously high," he told BBC News.
As part of the government's budget review, the council has been told to make a total of more than £13m of savings.
Mr Folkes said with huge spending cuts on the way, Cornwall Council should follow the example set by Cabinet members in Westminster and accept a 5% cut in pay.
In a statement, Cornwall Council said it was committed to delivering value for money, adding that its salary levels were in line with similar councils across England.
The Taxpayers' Alliance, which campaigns for more open government systems, said the salary figures were "hugely concerning".
Spokesman Mark Wallace said that as the UK was just emerging from a recession and as there were looming spending cuts, it was "unacceptable" for the council to pay out such an amount in salaries.