Labour rivals debate at Oxford town hall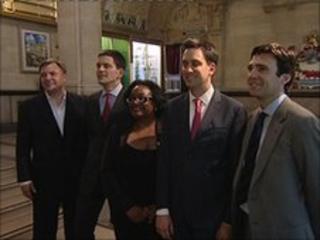 Hundreds of Labour supporters filled Oxford's Town Hall to hear from the five candidates fighting to lead the party.
Diane Abbott, Ed Balls, Andy Burnham, David Miliband and Ed Miliband all vowed to lead the party back to glory if they were selected.
Tuesday's debate was one of several taking place across the UK ahead of the leadership elections in September.
The candidates faced questions on the budget, defence and education.
Ms Abbott, MP for Hackney North and Stoke Newington, said she had the most experience in the party and understood its grass roots.
She said: "This is a turn-the-page election and I am the turn-the-page candidate."
'Team player'
Shadow schools secretary Ed Balls said he had the skills needed to be the next leader.
He said: "Let's choose somebody who can make decisions, who is strong and tough, who is a team player but who is also a campaigner and a winner."
Former health secretary Andy Burnham said he could relate to the people in a way David Cameron could not and could use this skill to lead the opposition.
He said: "I can give Labour something the Tories haven't got - a leader that people can relate to, in whom they can see their own background and they can identify with."
Former climate change secretary Ed Miliband said the Labour party had made mistakes in the past.
He said: "If we had listened to the party over war, over housing, over the 10p tax rate, we would have avoided some of the mistakes we made."
His brother David, the first to announce he was standing for leader, said: "I'm interested not in debating how we could have had a better yesterday, I want to build a better tomorrow."