Stabbing prompted four-hour siege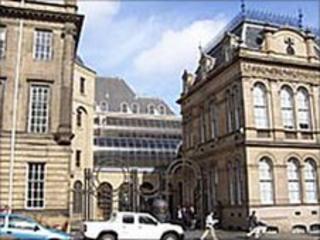 A man sparked a four-hour siege after repeatedly stabbing himself with a knife, a court has heard.
When police arrived at Denim MacLeod's home in the Dalry area of Edinburgh after a call from a member of the public, he ran at them with a knife.
Edinburgh Sheriff Court heard that the siege lasted for over four hours before officers were able to coax MacLeod out of his home.
The 28-year-old will be sentenced for the incident next month.
The court was told that the stand-off with MacLeod in August last year, involved armed officers, paramedics and police dogs.
MacLeod admitted conducting himself in a disorderly manner, running at police officers while brandishing a knife and breaching the peace on 5 August 2009.
Fiscal depute Gerard Drugan told the court a neighbour spotted MacLeod with numerous injuries and covered in blood and was told he had self-harmed with a knife.
Mr Drugan said the witness phoned police and when they arrived MacLeod ran at the officers brandishing a knife.
He said: "There appeared to be blood on the floor and walls and the panel was in a highly agitated state.
"The police officers were afraid for their safety and that of the paramedics.
"Due to the seriousness they asked for armed response and dog handlers to attend.
"They attempted to persuade him to leave the flat."
When officers were eventually able to gain access to the flat, they found a number of knives in the property. MacLeod was taken to Edinburgh Royal Infirmary for his wounds.
MacLeod also admitted possessing a hammer during an unrelated incident at a pub in the capital.
The incident happened at Gladstones Bar on 6 February last year. The court heard MacLeod had been surrounded by a group of eight and was being attacked at the time.
Sheriff James Scott deferred sentence on him until next month for background reports.