Underage drinking 'will not be tolerated'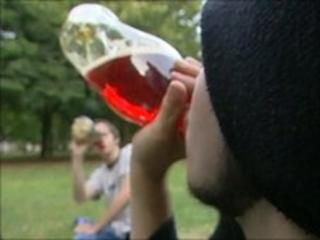 Underage drinking "will not be tolerated" over the summer months, police in Londonderry have said.
Constable Karen George, city centre neighbourhood officer, said police were keen to work with the community.
"Last weekend we dealt with large groups of young people drinking in the Buncrana Road area," she said.
"Alcohol affects everyone differently. It can leave young people vulnerable to attack and has obvious associated health risks."
Con George said the issue of alcohol abure needed to be addressed at home, at school and in the community.
"Large groups of young people hanging about the streets late at night can also cause disruption for nearby residents.
"Parents need to be aware of what is happening and take whatever steps necessary to ensure their children are aware of the dangers associated with alcohol.
"Don't turn a blind eye to what your child is doing when they go out the front door."