Casino case gambling addict referred to High Court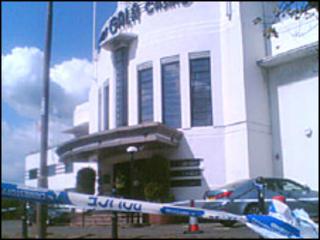 A judge has referred the case of a gambling addict who engineered a £1m fraud to the High Court because his sentencing powers were "inadequate".
Anthony Demarco, 37, from Edinburgh, was due to be sentenced at the city's sheriff court for taking out 23 false loans between July 2008 and July 2009.
The court has already heard how Demarco's debts had previously resulted in his father being shot in the head.
Tony Demarco, 64, survived the Gala Maybury Casino shooting in June 2008.
Jamie Robertson, 25, Imran Sakur, 35, Craig Kelbie, 35, and Francis McGlone, 39, were jailed in January for a total of 43 years for plotting to kill him.
The plot happened after gambler Anthony Demarco borrowed from money launderers in January 2008.
Following the attempted murder of his father, Demarco took out credit loans and commissions totally £1m to pay off online poker debts.
A date for sentencing at the High Court is yet to be fixed.