Vogue editor receives honorary degree in Guildford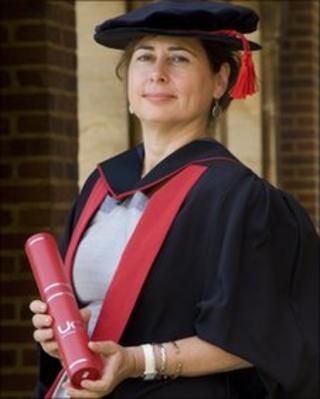 The editor of British Vogue has been awarded an honorary degree from the University of Creative Arts (UCA).
Alexandra Shulman, editor of Vogue since 1992, received the Honorary Master of Arts degree for her contribution to the magazine industry.
The presentation was at UCA Epsom's graduation ceremony on Tuesday at Guildford Cathedral.
The university has campuses in Epsom and Farnham in Surrey and Canterbury Maidstone and Rochester in Kent.
Since Ms Shulman took over at Vogue, its readership has risen to more than one million.
"Alexandra Shulman is one of the most influential women in the fashion industry," said UCA Pro Vice-Chancellor Paul Coyle.
"Her success at Vogue is evident in the huge increase in readership and the fact she is close to celebrating two decades as editor.
"I am sure she will be an inspiration to our graduating students."
UCA has also presented honorary degrees to filmmaker Parminder Vir, ceramicist Edmund de Waal and designer Pradyumna Vyas.
Musician, businessman and campaigner Bob Geldof will receive his award at UCA Canterbury's graduation ceremony on 22 July.