Police plan to use private security firms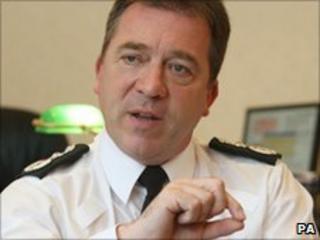 Private security firms like those operating in Iraq and Afghanistan could soon be in use in Northern Ireland.
They could be guarding police stations and providing protection for politicians, judges and other possible terrorist targets in NI.
The Northern Ireland Chief Constable, Matt Baggott, is to ask the Policing Board to endorse the plan on Thursday.
Police say the plan will save money and free up more officers for fighting crime.
Hundreds of former police officers and soldiers from Northern Ireland have been employed by private security firms in Iraq and Afghanistan, protecting individuals and buildings believed to be at risk of terrorist attack.
Some of them may soon find work closer to home.
The risks won't be anything like those they've encountered in those battlefields, and the pay is likely to be much less, but they could soon have the opportunity to apply some of their skills in Northern Ireland.
Mr Baggott has made it clear that getting more officers out on to the streets and into frontline policing roles is one of his key priorities, and he sees this as part of that process.
About 400 PSNI officers are currently involved in providing protection for politicians, judges and other potential terrorist targets, and guarding police stations.
The police say that is not cost effective.
They argue that it would save money, and give them greater flexibility, if those jobs were performed by suitability trained civilian staff, as that would result in more officers being available for frontline duties.
Bodyguards
Private security firms would be asked to provide trained bodyguards and other staff when needed, rather than having full-time police officers doing the jobs.
The chief constable will outline his plans to the Policing Board on Thursday and ask for its endorsement.
That backing is essential because the move would require new legislation, and that will only happen if there's cross-party support within the assembly.
Basil McCrea, the Ulster Unionist chairman of the board's human rights committee, said mechanisms would have to be put in place to regulate the work of the private firms, but he is firmly behind the idea.
"This is the right thing to do," he said.
"The chief constable has made his position clear and it's driven by the need to be cost effective.
Trained
"Clearly we need to ensure that the work is properly regulated, but we don't need fully warranted police officers to do this kind of work, they should be out on the streets.
"On that basis we will be supporting him."
Sinn Fein takes a very different view.
It is concerned that those most likely to meet the criteria for employment will be former members of the security forces who have firearms training, and says the police are best placed to deliver the service.
Policing Board member Alex Maskey said the party had fundamental concerns.
He said: "We have made the chief constable aware of our concerns."
"Even if these people are going to be guarding stations and protecting individuals, they are going to be inter-acting with the community and we want to know how they are going to be held to account for their actions.
Jobs
"At least a police officer can be held to account for his behaviour by the Policing Board, and that is a very important element in building public confidence in policing.
"We will listen to what the chief constable has to say, but in terms of getting our support for this, he has a long way to go."
Police sources insist that the jobs would be open to all, with no preference given to former officers or soldiers, and say training could be provided.
They say the alternative is keeping 400 fully-trained officers off the streets.
The chief constable is likely to find that what he sees as a common-sense move to reduce costs and increase flexibility will be the subject of some very heated debate.