Gen David Petraeus confirmed to lead Afghanistan war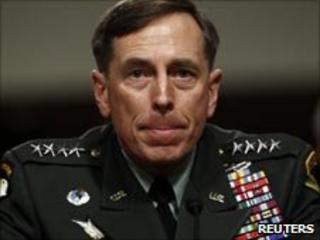 The US Senate has unanimously confirmed Gen David Petraeus as the new commander of US and Nato forces in Afghanistan.
President Barack Obama nominated him after sacking the previous commander, Gen Stanley McChrystal, last week.
Gen McChrystal and his aides had criticised senior administration officials in a magazine article.
Gen Petraeus earlier warned in his Senate confirmation hearing of an escalation of violence in Afghanistan in the coming months.
He is one of America's best-known military figures and is widely credited with having turned around the military situation in Iraq with a "surge" there.
He is expected to step down as head of US Central Command, a role he has held since October 2009, to take up the new post.
'Certain tweaks'
In written answers to the Senate Senate Armed Services Committee on Tuesday, Gen Petraeus described the security situation in Afghanistan as "tenuous" and insurgents as "resilient and still-confident", particularly in the south of the country.
"The going inevitably gets tougher before it gets easier," he told the committee, which backed his nomination to lead the war.
The general said troops were engaged in a contest of wills with the Taliban and promised a more co-ordinated approach.
He said he believed progress was possible, however.
The US has built up its troop strength in Afghanistan since President Obama took office in January 2009.
Gen Petraeus, 57, has said he supports Mr Obama's plan to begin withdrawing troops from Afghanistan in July 2011, subject to "certain tweaks" after the White House's year-end review.
Gen McChrystal and his team criticised senior administration officials in a Rolling Stone magazine article. He has since announced his retirement from the military.