Squatters invade Banksy gallery The Foundry in Hoxton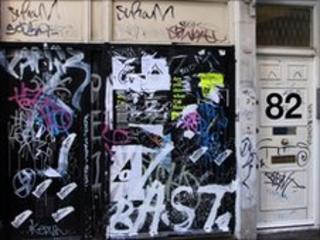 Almost 60 squatters have invaded an east London art gallery and bar in protest against its imminent demolition to make way for a chain hotel.
The Foundry, in Hoxton, allows local artists to hold exhibitions for free. It is home to a genuine Banksy - which the art-themed hotel intends to save.
The protesters say the hotel will destroy the community art scene so the wealthy can be charged to see a Banksy.
Park Plaza Hotels said the 18-room project would bring jobs to the area.
Pete Doherty used to hold poetry nights at the venue and pop group Hot Chip were formed there.
The protesters are camped in and outside the venue in tents and on armchairs while a banner draped from the venue reads: "Resist, occupy."
One squatter said: "The Foundry was a free artistic space for all the many groups in the area to use.
"Knocking it down and putting up a fancy hotel is just wrong.
"It is a policy of taking existing alternative culture, repackaging it and selling it off at a premium."
The Foundry was run by Jonathan Moberly but when its lease expired his landlord decided to sell the property to the hotel chain.
Mr Moberly said: "We have hosted over 2,000 exhibitions and we have created a completely free space for the public to use."
He accused Hackney Council of "bulldozing the planning application through" and "stomping on the community".
Mr Moberly added: "We would have liked Hackney to make some serious attempts to look at how the Foundry could have been saved."
'Ideal' site
Councillor Guy Nicholson, cabinet member for regeneration at the authority, said: "The council is not getting rid of The Foundry.
"The owner of the site came with a proposal and requested permission."
Park Plaza Hotels chief executive Boris Ivesha said the site was "ideal" for an art-themed hotel given the number of local galleries.
He added: "It will bring the sort of client that Hoxton wants visiting and shopping."