Pembrokeshire Celtic Blue Rock festival 2010 cancelled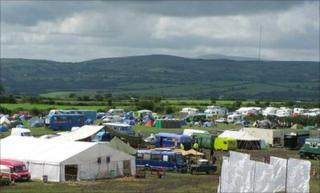 Organisers of an annual music festival in Pembrokeshire have cancelled this year's event.
The county council had revoked the Celtic Blue Rock Festival's licences to stop it taking place near Llanfyrnach between 6-8 August.
It said it had grown from a community festival in 2004 to a "major event" for up to 10,000 people.
Organisers made the decision with "great regret" but said it would return in 2011.
The festival was due to be headlined by The Beat and Goldie Lookin' Chain.
In a statement the event's voluntary management committee said it had to make the "difficult decision" to cancel the festival after long and careful consideration.
The committee said it had been planning to appeal against the loss of its licences, stating the festival was both well resourced and well run.
"Unfortunately," it added, "the dates we were given for the appeal hearing were too close to the festival itself and therefore left little room for the planning and marketing of the event.
'Only a year off'
"We know it has a strong and valuable place in the summer calendar of many people in Pembrokeshire and the surrounding counties; and so it is with great regret that we have had to cancel this years event."
Ticketholders for this year's festival have been told that they will be offered two tickets for next year's event.
"This is only a year off," said the committee.
"The festival will be back next year... and throughout the coming year the Blue Rock Committee are planning to build an event for next August that will be even bigger and better than previous years."
Pembrokeshire council had concerns about this year's licence, saying councillors were worried about management capability "keeping pace with the growth".