Brother of Mexican politician Torre to run in his place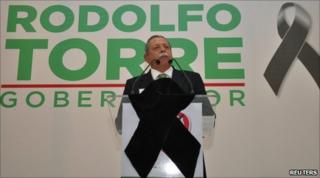 The brother of a politician murdered as he campaigned for governor in the Mexican state of Tamaulipas is to run in his place in Sunday's election.
The killing of Rodolfo Torre Cantu on Monday was blamed on drug gang hitmen.
His elder brother Egidio, who will now stand as the candidate for the Institutional Revolutionary Party (PRI), urged voters to turn out.
Fourteen states are holding elections on 4 July but violence has marred campaigning in some areas.
Egidio Torre said that "despite the profound pain" following his brother's killing, he had accepted the PRI candidacy in Tamaulipas, in north-eastern Mexico.
"I am inspired by the memory of my brother. I ask you to go out and vote," he said.
Rodolfo Torre was shot along with four of his supporters when gunmen ambushed his vehicle as he travelled to a campaign event on Monday.
Mr Torre, who was tipped to win on Sunday, was the highest-profile politician to be killed in Mexico since 1994 when a presidential candidate, Luis Donaldo Colosio, was murdered.
Tamaulipas has been the scene of a fierce turf war between rival drug gangs fighting over access to lucrative drug-smuggling routes to the US.
Sunday's local elections will take place in 14 states, 12 of which will be choosing governors.
The federal authorities have offered all candidates protection if they request it.
Responding to Mr Torre's murder, Mexican President Felipe Calderon appealed for political parties to unite against organised crime.
Some 23,000 people have died in drug-related violence since late December 2006, when Mr Calderon launched a military crackdown on the cartels.
The elections on Sunday are being widely seen as an electoral test for the PRI, which ran Mexico for more than 70 years until losing the presidency in 2000.
The next presidential election will be held in 2012.