Funeral held for 'perfect marine' killed in Helmand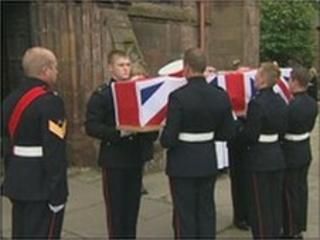 Hundreds have attended the funeral of a marine from Warrington who was killed in Afghanistan.
Steven Birdsall, 20, was on his first tour of duty when he was shot by insurgents in the Sangin area of Helmand province on Sunday.
The marine, of 40 Commando, was transferred to Selly Oak Hospital in Birmingham, but he died on Monday.
His coffin was carried by fellow marines into Warrington's St Elphin's Church.
During the funeral, the Reverend James Tabor, padre of Fleet Protection Group, Royal Marines, said: "He was loved deeply by all who knew him and he had a deep capacity to love them back.
"It is a measure of the man that we grieve so much today."
Mr Tabor said the marine was "a very young man who was full of talent".
"He was the best he could be. That is true of Steven as a Royal Marine, as a friend, as a brother.
"He taught us that life is an important gift to be savoured."
'Providing security'
Marine Birdsall, who had been described by a commanding officer as the "perfect marine", was the 296th member of the UK Armed Forces to die in Afghanistan since 2001.
He joined the Royal Marines in 2007, aged 18, and deployed to Afghanistan in April this year.
Marine Birdsall was providing security for a company of Royal Engineers working at a checkpoint in the Sangin area when he was shot.
His family said: "There are no words that could ever express the heartache of losing our beautiful son, Steven, who was always so selfless, brave and fearless."