Changing the face of childbirth in Sierra Leone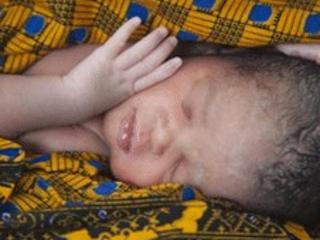 Alice Waterman says she has never seen so much blood in her life.
The 55-year-old independent midwife from East Anglia has gone to Sierra Leone with VSO in the hope that training local midwives will save lives in a country where one woman in eight dies in childbirth.
The images she describes are harrowing.
Blood covered the floor as a mother who had recently given birth to twins struggled to survive.
She needed a transfusion, but there is no blood bank in this West African state. Staff instead had to find out whether any relatives could help.
"The situation is very dire. To see it in reality is shocking in the 21st Century," she said.
"The death of young women appears to be accepted as part of normal life in Sierra Leone."
Difficult journey
And if the risks for mothers are great, their children do not fare much better. One out of every five babies will not live to see the age of two.
The mother survived the birth, said Alice, but sadly one of her babies did not, and Alice says this has left a lasting impression.
"I wondered about the twins - the first, a girl, had lived and was wrapped in a cloth and left at the side of the delivery room - which was also the office, and the place where staff got changed, put their bags and washed their hands in a bucket. There is no running water in the Makeni Government Hospital.
"The second twin, a boy, born by breech, died during birth."
Twins are more prevalent, but not always seen as a joy in the way they are in the developed world, she says.
"Sometimes a weaker twin does not survive beyond a few weeks, if that long. Many twins die at birth or one does not survive the birth."
Ante-natal care is poor, with basic equipment lacking, and iron tablets are not available in a country where most women are anaemic, even before they get pregnant.
"Hospitals often run without running water - only available from a well and a generator only turned on when an operation like a C-section [Caesarean section] is carried out. Equipment is often old, broken, run down. Wards are dirty and the smell of a postnatal ward without any ventilation is nasty. "
In demand
The government has now introduced free health care for pregnant women, lactating women and under fives - which means more women are coming to the hospitals.
And although this is better, Alice says it puts increased pressure on the country's 95 midwives who are dealing with a population of more than six million.
"I don't think that the government anticipated the demand for the free service," she said.
Theresa Bagrey, VSO's programme manager for health and a Sierra Leonian midwife, said the situation was critical.
"Generally, we have the worst maternal and child mortality statistics in the world. Our mothers are dying."