Pc 'lost control' in Uckfield fatal sports car crash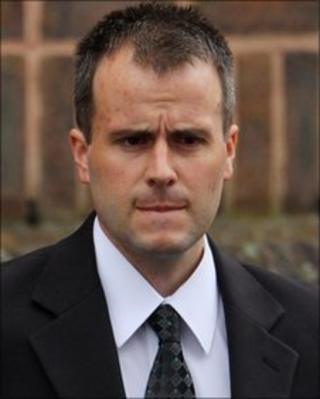 A 20-year-old man died after being sent flying into the air when he was hit by a sports car driven by an off-duty road traffic officer, a court has heard.
Luke Bland landed in a garden pond and died at the scene of the accident on the A26 at Little Horsted, near Uckfield, East Sussex.
Witnesses said Pc Stewart Chalmers's Lotus Exige sounded "like an aeroplane coming in to land".
Pc Chalmers denies causing death by careless driving on 14 February 2009.
Prosecutor Tony Prosser told Maidstone Crown Court Pc Chalmers ran into Mr Bland and another man who were standing on the pavement.
They were in a group of people at the scene of an earlier crash in the early hours in which their Peugeot 206 left the unlit rural road on a bend and went into a hedge.
"Clearly he lost control of the car as it came round the bend and spun off the road," said Mr Prosser.
"Both young men were forcibly struck by the car and were thrown up into the air towards the large garden pond."
Mild weather
Mr Bland, of Lime Close, Uckfield, was killed on impact with the vehicle. A post-mortem examination found he died of head injuries.
The Peugeot driver, Ben Blackford, was taken to hospital with severe injuries.
Pc Chalmers, 30, also from Uckfield, was able to walk away from his car. It was then discovered he was an off-duty Sussex Police officer.
Mr Prosser said as Pc Chalmers sat in an ambulance at the scene with another police officer, he was heard to say he believed he was driving at 55mph in a 50mph speed limit.
But during questioning by police, he said he had no idea what speed he was doing.
The court heard Pc Chalmers had left Hove police station after finishing a shift just before 0100 GMT and thought the weather was mild compared to that of previous night.
He did not encounter any ice as he took his usual route home through Brighton and Lewes, the court heard.
Pc Chalmers said as he approached the earlier accident, he felt his car was going to crash into an oncoming vehicle so he steered left.
He felt his tyres spinning and lost control of the vehicle and it crashed but he did not realise he had hit anyone until he got out of the car, he said.
'Blood samples'
Police called to the scene found there was a sheet of ice across the road a short distance away believed to have been caused by a water main which had been leaking on to the road for two weeks.
Gritter lorries had already been out in the area, Mr Prosser said.
Because two cars had crashed, experts were unable to distinguish between the marks on the road, so there was no scientific evidence as to the speed of the Lotus, the court heard.
Mr Blackford had a blood sample taken which found that he had been drinking and even four hours after the collision was over the legal drink-drive limit.
Tests also showed he had also taken cocaine but because of the extent of his injuries, it was decided it was not in the public interest to prosecute him.
Mr Prosser said the important issue for the jury to consider was whether Chalmers was driving with due care and attention according to the weather conditions.
The trial continues.