Concern over fire at industrial site in Caerphilly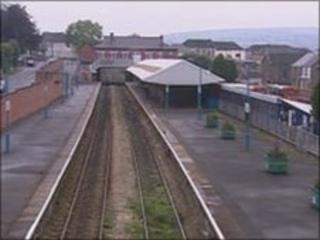 Residents say they are concerned about fires which have been breaking out on the site of a former tar plant in Caerphilly.
A fire has been smouldering for almost a week among vegetation where the old Thomas Ness plant once stood.
Residents of nearby Railway Terrace said there had been several fires at the site recently.
Caerphilly council said a decision had been made to allow the fire to burn in a "controlled manner".
Susan Jenkins, of Railway Terrace near Caerphilly station, said: "As residents, we're all concerned about it but we don't know what to do."
She added: "My one neighbour is concerned about it - she said there was a terrible fire when I was away on holiday.
"Since then, these smaller fires have broken out."
The council said a fire was reported last Friday, 25 June, and representatives from environmental health, the Environment Agency and the fire service assessed the situation.
"The fire consisted of stockpiled materials including tree stumps and general vegetation," said the council in a statement.
'Reduces the risk'
"After careful consideration a decision was reached to allow the fire to continue burning in a controlled manner to reduce the risk of burning elsewhere.
"This approach also reduces the risk of any contaminated surface water run off from the site should water have been used to extinguish the fire.
"Local residents have expressed concerns about the length of time being taken to tackle the fire, but the agencies involved are keen to explain that the approach taken to date is considered to be the most effective way of reducing risk of further problems."
An environmental health officer has visited every day to monitor the site and "ensure protection of public health".
Councillor Lyn Ackerman, cabinet member for the environment, said: "We are keen to reassure the local community that the protection of public health is of paramount importance and we take our duty very seriously.
"We are confident that this is the best way to deal with the fire and all the agencies concerned are closely monitoring the situation on a regular basis."