Water floods A38 as vandals target Birmingham canal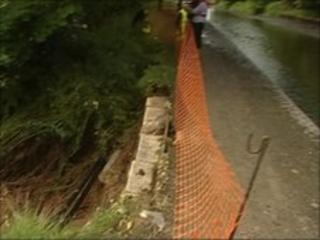 Vandals sent thousands of gallons of canal water and silt on to one of Birmingham's busiest roads.
They opened two lock paddles on the Minworth flight of the Birmingham-Fazeley canal, increasing the flow of water, in an overnight attack.
Part of the canal bank was washed away on to the A38 Kingsbury Road between Yatesbury Avenue and Midpoint Boulevard.
The damage resulted in severe delays for rush hour commuters.
British Waterways experts are assessing the damage to the canal bank.
A spokesman said three miles of canal had been affected, causing a rise of up to two feet to wash over the bank.
He said: "The road is no longer under water but it is covered in a layer of silt.
"We're working to further reduce water levels on the canal and our engineers are assessing the bank to ensure that it is safe for highways officials to clean the road."