Police warn on behaviour ahead of Glasgow Orange parade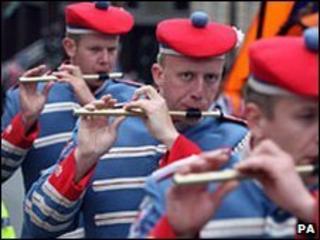 Bigoted behaviour and drunkenness at Scotland's largest Orange Parade will not be tolerated, Strathclyde Police has warned.
About 8,000 marchers and 90 bands from 182 lodges will stage their annual march through Glasgow on Saturday.
Police said officers will "make full use" of fixed penalty fines of £40 to tackle offenders.
The Orange Order has asked those attending to refrain from "excessive drinking or loutish behaviour".
Strathclyde Police said it had been working closely with the Grand Orange Lodge and Glasgow City Council to ensure the parade "passes peacefully and with minimum disruption".
Asst Ch Con Fiona Taylor said: "The laws against street drinking and bigoted behaviour will be vigorously enforced on the day, and our advice would be to enjoy the march and leave the alcohol at home.
"Antisocial behaviour and drunkenness by a boorish minority only spoils the day for everyone, and officers will make full use of fixed penalty tickets to tackle the offences of drinking in public and urinating in public places. Why run the risk of facing a fine of £40?"
The event will begin with a wreath-laying ceremony at the Cenotaph in George Square at 0945 BST.
The main procession will leave about 1010 BST, march up St Vincent Street, round Blythswood Square, then pass through the city centre.
The parade will finish at Glasgow Green at about 1130 BST for a rally.
Ian Wilson, Grand Master of the Grand Orange Lodge of Scotland, said: "Seventy-five lodges from the East of Scotland held an enjoyable, trouble-free march and rally in Perth last Saturday and I expect no less from this Saturday's events in Glasgow and Greenock.
"The annual walks of the Orange Order are a great free show to those who come to enjoy the music, the colour and the pageantry. I appeal to everyone not to spoil the day with excessive drinking or loutish behaviour."