Grampian Police reports a 15% drop in violent crimes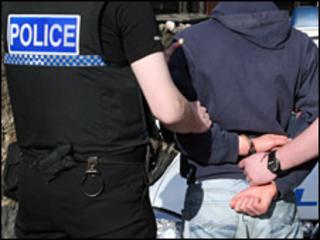 Violent crime rates in Grampian have dropped by nearly 15% within a year, according to the force's annual report.
A total of 625 violent crimes were recorded in 2009/10, 109 fewer than the previous year.
Meanwhile, detection rates for those types of offences now stand at nearly 80% - a seven-year high.
Chief Constable Colin McKerracher said 1,600 officers served the north east, the highest number in the force's history.
The report also highlights a 12% year-on-year drop in anti-social behaviour.
Recorded incidents of vandalism fell by more than 21% over the same period, according to the report.
It also revealed that the force took more than 19kg of hard drugs off the streets, leading to a total of 727 charges of supply or possession with intent to supply.
This compares with 907 drugs-related charges in 2008-09.
Licensing regulations
The report shows a drop in the number of robberies and serious assaults. They are at their lowest level for seven years, with detection rates for serious assaults now hitting more than 90%.
Mr McKerracher said: "We are proud of the fall in serious assaults, which has come about through a combination of new licensing regulations and a strong police presence in Aberdeen and other town centres, especially at night."
He added that the force - in common with others across the country - had to deal with budget pressures caused by the economic climate.
But he said: "Consistent with previous years, we have exceeded government targets for 2009/10, making almost £4.5m in efficiency savings.
"There may be limited scope to meet targets in future years, but - despite significant demands on our resources like last year's fatal helicopter crash - we have also saved £638,000 in overtime costs and delivered a balanced budget."