Sledge Hockey comes to ice rink in Guildford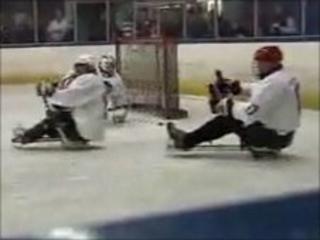 Members of the public in Surrey are being encouraged to take up the sport of ice hockey, but with a difference.
Sledge Hockey is a variant of the Olympic sport, but players use sledges to move about the rink at high speeds.
It was developed for the disabled and the British Sledge Hockey Association is seeking to build its profile ahead of the 2014 Winter Paralympic Games.
On Sunday, Guildford Spectrum will host an event giving people the chance to get strapped to a sledge to try it out.
'Fast and thrilling'
The British Sledge Hockey Association (BSHA) said the sport could be played by everyone.
"This is a great way for members of the public to watch and perhaps even have a go at one of the fastest and most thrilling sports out there," said spokesman Matt Lloyd.
"If we get enough interest, we would definitely look to set up a regular club in Guildford and who knows, maybe we'll find someone who could be representing Britain in 2014."
Joining those at Guildford Spectrum will be members of the Ministry of Defence's Battle Back programme.
Battle Back is part of the MoD's rehabilitation programme which gives injured servicemen and women the opportunity to take part in adventurous training and sport.