India raises interest rates to curb inflation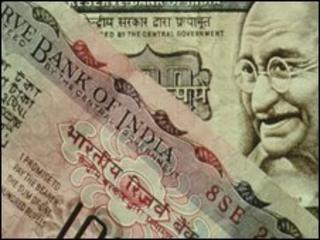 The Reserve Bank of India (RBI) has raised key interest rates by a quarter of a percentage point in an attempt to curb double-digit inflation.
The rise came after a surprise hike in inflation to 10.2% in May.
The repo rate - the rate at which the central bank lends to commercial banks - was raised to 5.5% from 5.25%.
"There has been some moderation in food price inflation, but the price index of food articles continues to increase," the central bank said.
"More importantly, the prices of non-food manufactured goods and fuel items have accelerated in recent months," it added.
The interest rate increase comes after two rises in April.
'Expected'
The central bank also raised the reverse repo - the rate it pays to banks for deposits - to 4% from 3.75%.
Annual inflation has risen sharply over the last few months.
And the Indian government recently raised fuel prices in a move that it now says will add nearly one percentage point to the inflation rate.
"The rate hike was very much expected as non-food inflation was picking up at a very fast rate," said D K Joshi, an economist at Mumbai-based credit rating agency Crisil.
"Although the fuel price hike is not the reason for the rate hike, it definitely will put more pressure on inflation."
In its April policy review, the bank projected GDP growth for 2010-11 at 8%, and this growth projection will be reviewed at the end of July.