Bunting flags campaign for Medway's 2012 city status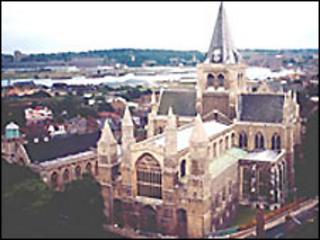 A campaign is under way to draw attention to a collective bid by five towns in Kent for city status in 2012.
People are asked to write on bunting flags what Medway means to them, and return them to the council to be used as evidence of support in its bid.
The campaign brings together the Medway towns of Rochester, Strood, Chatham, Gillingham and Rainham.
The bunting flags will be available at local events throughout the summer, as well as online.
The campaign seeks to gain as much support for Medway's bid as possible ahead of the full announcement for the competition, expected later this year.
'Rich heritage'
A new logo is also being released to mark Medway's bid.
It symbolises the importance of Medway's towns, its river, its green open spaces and rural areas and the fact that a city bid is something that will help the area's future, and benefit young people.
Council leader Rodney Chambers said: "We are a city in all but name. Medway is a place with a rich heritage that is going places and undoubtedly has a great future.
"I would urge as many people as possible to draw, paint or write on one of our special bunting flags indicating why they believe Medway should be a city then send it back to us.
"This will really help strengthen our bid and help us let people know that Medway has so much to offer and should become a city."