Police 'diary room' consults the young at Surrey events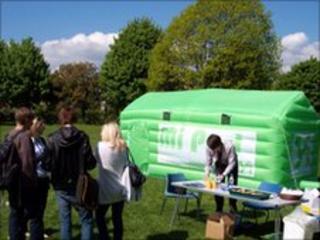 An inflatable, portable, Big Brother-style diary room is being taken around Surrey as part of a drive to consult with young people.
The MiPod will be used by Surrey Police at community events at five different locations between July and September.
Youngsters will be asked how they want the force to communicate with them and what their concerns are.
The answers will be fed back to formulate how best the force can engage with them in future.
Partner agencies including Surrey County Council, borough and district councils, Surrey Police and Surrey Police Authority have worked together to buy the Mipod and will now be able to use it for their own consultations as and when required.
It comprises of two separate rooms joined by a one-way mirrored window.
One is a darkened room containing a film crew and interviewers, and the other is a brightly-lit room for interviewing.
The MiPod will be at Merstham Community Festival, Westborough Community Fair, and the Sheerwater Festival this month, at the Stanwell Family Fun Day on 8 August, and in Old Dean, Camberley, on 4 September.