US Vice-President Biden in Iraq amid election deadlock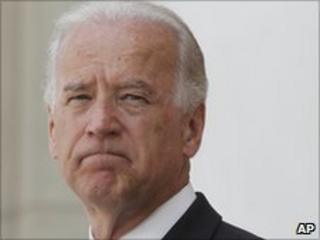 US Vice-President Joe Biden has arrived in Baghdad for talks with Iraqi leaders, amid deadlock in the country over the formation of a new government.
Mr Biden's visit comes four months after Iraq's inconclusive election, in which no clear winner emerged.
He will hold discussions with Iraqi lawmakers and mark the 4 July holiday with US troops, a White House statement said.
The visit is his second to Iraq this year.
Mr Biden was met at the airport by Iraqi Foreign Minister Hoshyar Zebari and top US officials.
The White House said he would meet both Prime Minister Nouri Maliki and his main rival Iyad Allawi, whose Iraqiya list narrowly won the most seats in the 7 March election.
No single party won enough seats to form a government on its own.
A union between mainly Shia groups could leave Mr Maliki in a position to form a government - but Mr Allawi's group says it should form a government because it won the most seats on election day.
The US is concerned that the power vacuum could lead to an increase in violence.
Overall violence has dropped across the country, but militants have launched a string of attacks in recent weeks.
The US has so far taken a hands-off approach during the negotiations - in public at least, reports the BBC's Gabriel Gatehouse in Baghdad.
But as the Americans speed up the withdrawal of their forces - they want all their combat troops out by the end of next month - Mr Biden will surely try to put some pressure on the various factions to come to an agreement quickly, our correspondent says.