Tony Blair police protection costs under scrutiny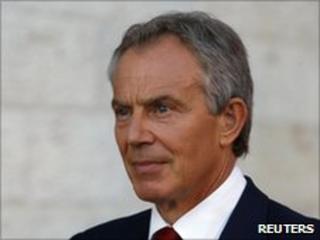 Police protection for former prime ministers should not cost anything more "than is absolutely necessary", Foreign Secretary William Hague has said.
It follows newspaper reports that Tony Blair's bodyguards are costing taxpayers £250,000 a year in expenses.
The Mail on Sunday claims officers are staying in "five-star luxury" on Mr Blair's holiday and business trips.
Mr Blair's office rejected calls for him to pay policing costs, arguing he spent most of his time on unpaid work.
This included projects in Africa, his role as a Middle East peace envoy for the Quartet powers - the EU, the UN, the US and Russia - and his faith and sports foundations.
'Good job'
A spokesman said: "Mr Blair has a very high regard for the professionalism of his protection team.
"They do a fantastic job, often in very difficult circumstances particularly in the Middle East."
The Mail on Sunday reports protection squad claims of more than £1,200-a-night for accommodation in hotels, limousine hire and other expenses.
The paper lists a series of holidays, including a two-week break Mr Blair took in Borneo, where officers ran up a bill of more than £20,000 on their Metropolitan Police Barclaycard.
Another week-long visit, by the Blairs to the Como Shambhala health retreat in Bali, is said to have resulted in a bill of £6,873 for the three-man police team's accommodation.
In addition to the holidays, officers accompanied Mr Blair on more than 21 international trips in the first four months of 2010, the newspaper reports, to destinations including Abu Dhabi, Jordan, Liberia, China, Israel, Singapore, Malaysia and the US.
The newspaper says it has seen documents which show the annual cost of Mr Blair's protection squad was nearly double the £135,000 submitted by the officers protecting Gordon Brown in his last year as prime minister.
Asked about the story on Sky News, Mr Hague said: "I don't know anything about that particular level of cost. That's not provided by the Foreign Office so I can't really comment on that.
"Clearly, former prime ministers, whoever they are, whichever party they are from, do need to be protected but we have to make sure that is as cost-effective as possible. That it doesn't cost any more to the taxpayer than is absolutely necessary.
"I am sure the departments who deal with that will make sure it is subject to the right level of scrutiny but I can't say any more about that, really, today."
Mr Hague paid tribute to Mr Blair's work in his new role as UN Middle East peace envoy, saying: "I think he does a good job".
The foreign secretary, who held talks with Mr Blair at the Foreign Office on Friday, said that despite their former differences as leaders of rival parties, he would continue to work with the former PM to try to "ease the situation in Gaza and improve the prospects of peace in the Middle East".
'Luxury'
The cost of protecting Mr Blair was criticised by the former director of public prosecutions Sir Ken Macdonald, who is to be made a Liberal Democrat peer.
He told BBC1's The Andrew Marr Show that "something had gone awry" if Mr Blair's protection officers were staying in five-star hotels.
He said: "There is obviously a good reason why former prime ministers are protected, and Tony Blair is probably under threat as much as any.
"But I think it does slightly stick in the craw that so much money is being spent on so much luxury. I am sure that many, many taxpayers are going to resent this."
All former prime ministers are entitled to round-the-clock police bodyguards and protection officers' overtime rates are reported to be among the highest in the Metropolitan Police.
The Mail on Sunday reports that officers protecting former Conservative Prime Minister Sir John Major claimed an extra £119,000 in expenses last year.
'Cheapest price'
In a statement, the Metropolitan Police said: "Like all public services the Metropolitan Police Service (MPS) has got to prove that it delivers value for money.
"We are committed to achieving this and with anticipated budget cuts we are even more focused on how we can best do this.
"Overtime is called upon when it is essential to maintain operational effectiveness."
It added: "The few officers receiving significant payments in respect of overtime are mainly in undercover roles or in royalty and diplomatic protection units.
"In such areas, working time is determined by the operational circumstances and, in the case of protection officers, requirements of the principal."
The statement said that the Met regularly monitors and scrutinises levels of overtime and expenses and reports regularly to individual groups and the Metropolitan Police Authority.
It said the Met sought to "book the cheapest price travel available bearing in mind operational demands" and all overseas travel was subject to authorisation by a senior police officer or a senior member of police staff".