Interpol issues appeal over UK suspected paedophile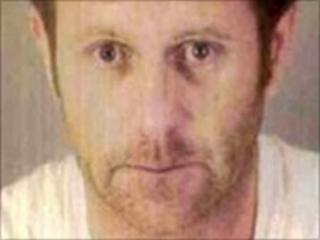 Interpol has appealed for help trace a suspected British paedophile.
Commercial pilot Daren Elarmo, 40, who also uses the surname Jones, is accused of kidnapping two teenage boys for sex.
Mr Elarmo is wanted by officers in the United States investigating the grooming of two boys via social networking sites between 2005 and 2008.
Police said the plane and helicopter pilot, originally from Wokingham, Berkshire, visited Britain last year, but may now be living in Spain.
It is thought that he may possibly be living among the expatriate community.
Mr Elarmo, is among 26 fugitives being sought by detectives at the international law enforcement agency, which is launching the second stage of a global manhunt, dubbed Infra-Red, aimed at redoubling efforts to catch some of the most elusive suspected criminals.
Drug smuggling
The operation has already led to the arrest of more than 100 wanted people. It involves 29 countries and is targeting 450 people suspected of serious offences from murder to child abuse and drug smuggling.
Other cases being highlighted by Interpol include:
Pole Marcin Balcewicz, 29, known as Balas, wanted for murdering a man with an iron bar in his homeland in 2006. Interpol said he may be on the run in Britain.
Romanian Ioan Clamparu, 41, who is suspected of masterminding an international people smuggling operation. He has contacts in Britain and Ireland.
Irishman John Griffin, 43, known as Fozzy, wanted over the murder of a 23-year-old woman whose body was found in a burned-out caravan in Galway in April 2005. Interpol believes he may be in Britain after faking his death on a cliff top.
Former financial director Jason Holland, 42, may be hiding in Britain from South African police investigating a substantial 2008 fraud involving the Sentula mining company. He has joint British/South African nationality.
Briton Christopher More, 32, who is wanted for murder and false imprisonment over the death of a man fatally beaten at a farmhouse in Cheshire in June 2003. Police believe he may be on the run in Spain.
Hungarian company director Janos Szpevak, 33, thought to be hiding in Britain from police investigating a sophisticated financial fraud in his home country. He has also travelled to Belgium and Sweden.
Chatroom hope
Martin Cox, from Interpol, said: "The operation has been very successful in locating and arresting a large number of these targets, but what we are now left with are the cases where we have no new information on their whereabouts, which is why we are asking for the public to help.
"It is more likely that someone will recognise one of these fugitives from a social networking site or a chatroom than spotting them walking down the street, but no matter how a member of the public has the information, we would ask that they pass it on.
"Many of these fugitives will believe they have got away with it and that they are no longer wanted. What this operation and Interpol are clearly showing is that this is never the case and that law enforcement will continue to search for these wanted persons for as long as it takes."
Anyone with information should contact fugitive@interpol.int or call Crimestoppers on 0800 555111.