Dorset landmark to raise awareness of at-risk species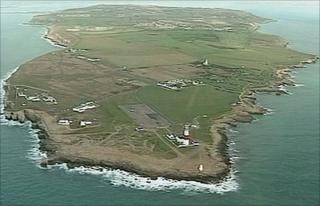 Plans for a "living monument" are under way to raise awareness of 17,000 global species under threat from extinction.
The Mass Extinction Memorial Observatory will be built on the World Heritage Jurassic Coast in Dorset, famous for fossils of extinct species.
The landmark, in Portland, will be made of white Portland stone blocks, each carved to depict 850 species lost since 1662, when the last dodo was seen.
Dorset County Council's cabinet approved the project last week.
A council spokesperson said the plans should bring millions of pounds into the local economy, create jobs and attract an extra 100,000 visitors each year.
The total cost is expected to be in the region of £3m to £5m, which the council says will come from donations, corporate sponsorship and charitable grants.
The council will make a one-off grant towards the project of £30,000, with private donations making up the rest of the £150,000 initial planning costs.
The council said: "A circular enclosure open to the sky, it would act as an 'observatory' to ongoing extinction, with each new extinct species requiring a new block and carving."
The project director, sculptor Sebastian Brooke, a former Weymouth College student, has the backing of the Royal Society, the World Wildlife Fund UK, novelist Philip Pullman and the co-founder of the Eden Project, Tim Smit.
'Fragility of life'
Mr Smit, who is the principal advisor to the project, said: "MEMO is an extraordinary project to create a truly global monument to the species being lost, now and ongoing, in the Earth's sixth mass extinction.
"We are seeking to build something that is a living monument to the fragility of life.
"A monument for our times, it will undoubtedly attract many visitors. It could and should become Europe's finest."
The council aims for the landmark to be completed by 2012, when Portland is hosting the Olympic sailing events with neighbouring Weymouth.
Two sites in Portland are being considered for the landmark, which have been offered at no cost, the council said.
They are New Ground - which overlooks Fortuneswell, Portland Harbour and Chesil Beach - or a site overlooking the East Weares.