African crowned crane chick wears socks to uncurl toes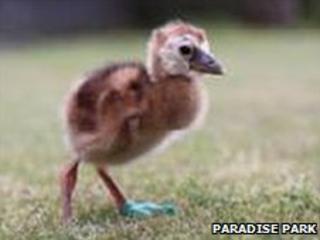 An African crowned crane chick hatched in Cornwall has been wearing special green socks to help its legs develop.
The chick, named Little Crane, was born at Paradise Park, Hayle, with curled toes a week ago.
David Woolcock, from the park, said the special bandages were put on the chick's toes to help straighten them out because they were slightly curled.
They have since been removed and the chick is being walked regularly to strengthen its legs.
Keepers at the wildlife park are hand-rearing Little Crane after its mother laid her eggs inside the hutch instead of outside.
Mr Woolcock said: "We made a decision to remove the eggs and incubate them ourselves, this species having been upgraded to 'vulnerable' status.
"We were delighted when one hatched."
The chick will be given a diet of mealworms, to help it grow from 12cm (4.72ins) to 1.21m (4ft) over the next few months.
Little Crane is expected to be weaned in late August and introduced to an unpaired partner as a companion.
The African crowned crane is Uganda's national bird, featuring on the country's flag and coat of arms, but its habitat is under threat due to drainage, overgrazing, and pesticide pollution.