Ballykelly primary teacher was discriminated against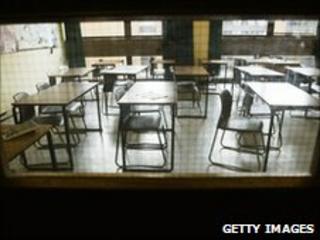 A Protestant primary school teacher who suffered discrimination because of her religion has been awarded £8,250 at an industrial tribunal.
Julie Brudell was among four teachers selected for redundancy at Ballykelly Primary School.
The majority of pupils at the school are Catholic. While five of its 15 teachers at the time were Catholic, none of them was picked.
The tribunal found her religion was "an important factor" in her selection.
Ms Brudell was subsequently offered a post in the school's nursery unit, where she still works.
"She did lose her P3 teaching post which she clearly enjoyed... and the whole process led to her feeling devalued," the tribunal said.
'Good intentions'
Ms Brudell took the case against the County Londonderry school's board of governors and the Western Education and Library Board, with the help of the Equality Commission.
"She received the treatment she did because of her religion, or at the very least, to the extent that the respondents' motives could be said to be mixed, her religion was an important factor in the respondents' decision-making process," the tribunal found.
"The fact that the respondents acted with good intentions in the interests of the school does not provide them with a defence."
The tribunal found "there was an awareness" that Catholic pupils outnumbered Protestant ones, and with school numbers already declining, it would "lose even more depending on who was made redundant".
The board had argued it was focused on who could teach religious education to Catholic pupils.
The tribunal said: "There was a concern about the reaction of Catholic parents and a fear that they would vote with their feet and take their children elsewhere."
'Religious mix'
The redundancy criteria were last-in, first-out, taking account of the needs of the school in order of priority.
The third item on the prioritised list was "staffing in line with the religious mix of the pupils".
The tribunal found this amounted to direct discrimination. It also found indirect discrimination on the grounds of religious belief.
Eileen Lavery of the Equality Commission said the case highlighted that fair employment law extended beyond recruitment.
"It is unlawful to discriminate on grounds of religious belief or political opinion in such matters as selection for redundancy, as well as in all other decisions affecting teachers within the school," she said.