Referendum/poll clash criticised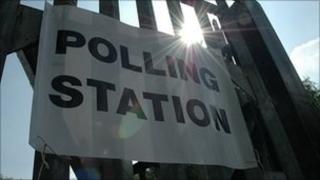 Plans to hold a referendum on changing the Westminster voting system on the same day as elections in NI, Wales and Scotland have been criticised.
Deputy Prime Minister Nick Clegg told MPs that the referendum would be held on 5 May.
That is the same day voters choose MLAs for the Stormont Assembly, MSPs for the Scottish Parliament and assembly members in Wales.
Council elections are also scheduled for 5 May in Northern Ireland.
The referendum will ask people to decide between the current first past-the-post system and the alternative vote system, under which voters rank candidates by preference.
Mr Clegg said holding it on the same day as other elections would save money and could increase turnout.
In Northern Ireland it could also mean that voters would be presented with three ballot papers.
It is understood that ministers from Belfast, Edinburgh and Cardiff are to write to the government to express their concerns.