Gaza hopes to get back to business as blockade eases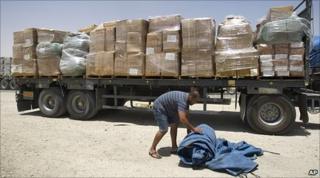 Israel has confirmed it will ease its four-year blockade of the Gaza Strip, allowing more materials into the embattled territory. The BBC's Jon Donnison asks some business owners in Gaza City what difference they think the decision will mean for them and for the people of Gaza.
HANI ASRI, SUPERMARKET OWNER
"This is Chocapic from Israel and this is Chocapic from Egypt," says Hani Asri holding up two boxes of cereal in his supermarket.
The Egyptian box is battered and dusty. It has come through smuggling tunnels.
The Israeli box is new and clean. It is one of several new products to have arrived in the past few weeks since Israel announced it was easing its blockade.
"There has been a difference. We have a few new products from Israel, cereal and coffee creamer," says Mr Asri. "It is good for the customers."
The Israeli goods are cheaper. The Israeli Chocapic costs 17 shekels ($5) while the battered Egyptian box sells for 28 shekels ($8).
But both those prices are expensive - comparable with cities like London or New York - and few people in Gaza can afford such goods.
"They are international prices," says Mr Asri.
The blockade has brought unemployment in Gaza close to 40%, according to the UN.
Most supermarket goods still come from Egypt but Mr Asri is optimistic that the situation will change - "inshallah", he says (God willing).
These goods are not charity, they are business, and Israeli traders will have a new market if all commercial goods are allowed in.
However, it could be bad news for the smuggling tunnel operators on the Gaza-Egypt border, some of whom have made a great deal of money. They are already reporting a fall in business.
MARWAN KISHAWI, MERCEDES DEALERSHIP
"We don't need food. We have all the food we need," says Marwan Kishawi.
"We need cars, cement, raw materials to allow the economy to rebuild."
Mr Kishawi estimates he has personally lost $300,000 in business over the past three years. In that time he has not been able to import a single new car.
In his showroom, he only has one car for sale - a yellow stretch-limo taxi.
"I don't want to sell it because it is the only car I have. But I am getting desperate," he says.
Mr Kishawi's garage has dozens of parking bays to carry out repairs but most of them are empty. "We just don't have enough spare parts," he says.
Mr Kishawi says that since the blockade was eased two weeks ago he has seen virtually no change.
"Now they will let me bring in windscreen wipers, windscreens, engine oil and car lights, but it is not enough," he says.
What he wants is whole new cars. Mr Kishawi has hundreds of thousands of dollars worth of new cars in storage in Israel. He says it costs him thousands to store them. They have come from Germany but so far Israel has not let them into Gaza.
Is he optimistic things will change?
"You have to be optimistic because depression gets you nowhere," he says with a wry smile. But the smile suggests he will believe it when he sees it.
RAFIQ HASSOUNA, CONSTRUCTION COMPANY OWNER
"In my business we have seen nothing change since Israel's announcement two weeks ago," says Rafiq Hassouna, whose construction company is one of the biggest in Gaza.
Since the blockade was tightened three years ago, Mr Hassouna says his business has lost millions of dollars.
His annual turnover was around $10m five years ago. Now it is less than $1m.
"We used to import steel, cement, building materials. This is what we need and we still cannot bring these things in."
Israel says it will now allow in construction material but only for organisations such as the UN.
Mr Hassouna is only involved in one small UN project.
Israel says it fears Hamas could use material like cement and steel to strengthen its military operation.
Mr Hassouna laughs at this.
"Hamas have all the cement and steel they need," he says. "They get it through the tunnels from Egypt."
He used to employ more than 200 people in Gaza but now has only about 30. His plush offices in Gaza City are pretty much deserted.
Mr Hassouna, once a very successful businessman, is not optimistic things will change soon.
"I feel there is no clear future for me or my kids. All my dreams for my business and my family are blocked," he says.