Anger as Liverpool schools rebuilding plans scrapped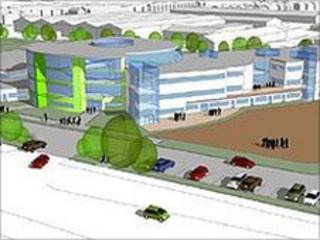 Councillors will fight "tooth and nail" for investment in Liverpool's schools following the government decision to scrap its building programme.
Education Secretary Michael Gove said that plans to rebuild or modernise 26 schools in the city were among those across England that will not go ahead.
Liverpool's £350m scheme was approved in March and was to start in 2014.
Councillor Jane Corbett said: "This is one of the blackest days for education in Liverpool."
Mr Gove told the Commons that 719 school revamps already signed up to the Building Schools for Future (BSF) scheme would be scrapped.
He said the scheme had been "characterised by massive over spends, delays and needless bureaucracy" and axing it would save billions of pounds.
The decision has sparked anger among councillors, head teachers and governors in Liverpool, where £4m has already been spent on planning.
Among the 26 projects axed is the new Archbishop Beck Catholic College in Walton, which was due to include a multi-million pound sports arena and theatre.
Plans to co-locate Archbishop Blanch and St Hilda's High at the Edge Lane innovation park, making them both science schools, have also been halted.
Ms Corbett, cabinet member for education, said she was "angry and disappointed" for children in the city.
'Let down'
"Our plans to completely transform secondary education across the city were well developed, and had been years in the making. They have been axed at a stroke by the Education Secretary.
"Children only get one chance at a good education and have been let down and left high and dry in sub-standard buildings by the Secretary of State.
"The government talks about protecting areas which are in need and there is no city more in need than Liverpool, with the highest deprivation levels in the country and a huge skills shortage.
"We will be fighting tooth and nail to secure what investment we can and taking the message to Westminster that Liverpool cannot afford to be without significant investment in its schools."
Liverpool's re-organisation of secondary education had been built around its BSF programme.
Academy schemes in Garston (New Heys and St Benedicts) and Croxteth (De La Salle) may still go ahead following a review.
Building work on six schools already under construction as part of a £150m scheme is not affected by the government decision.