Shrewsbury park closed after three-man sex attack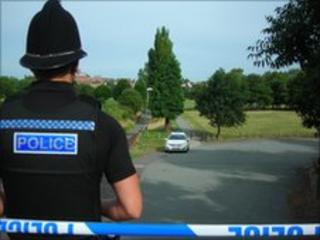 A park in Shropshire has been cordoned off following reports that a woman was seriously sexually assaulted by three men on her way home.
The woman, in her 20s, was walking through Castle Meadows, between Castlefields and Underdale Road in Shrewsbury, when she was attacked.
She told police she was grabbed by the men, forced to the ground and assaulted between 0200 BST and 0245 BST.
Her attackers then ran off. Anyone with information is asked to call police.
West Mercia Police have appealed for any sightings of three men in the Underdale Road and the Castle Walk areas between 0200 BST and 0300 BST.
They are also trying to establish the woman's exact route following her night out in Shrewsbury.
She was thought to have walked across Castle Walk footbridge over the River Severn from the Dana direction towards Underdale Road and Castle Walk where she was attacked.