Regeneration areas to share £50m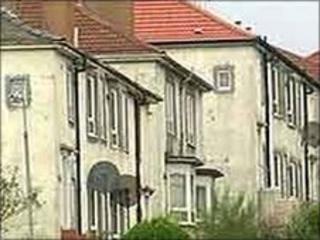 A £50m fund is being made available by the Scottish government to kick-start regeneration schemes in selected areas of need across the country.
The cash will create loans for new business areas, wireless technology zones, green energy for social housing and more efficient transport schemes.
The money will be "recycled" into other projects after it is repaid.
The Scottish government is providing £26m of funding, with the remainder coming from the European Commission.
'Support recovery'
The aim of the fund is to help regeneration schemes stalled by the recession, by providing financial backing for projects which are struggling to get finance from commercial lenders.
Communities Minister Alex Neil announced details of the project while visiting Bridgeton Cross to see how the east end of Glasgow is being transformed
"Regeneration is critical to boosting our economy and safeguarding jobs," he said.
"This new flexible £50m fund will help kick-start a whole range of fantastic regeneration projects that will revitalise communities most in need and support economic recovery.
"Importantly, by ensuring we recycle the cash investment, through an 'invest now, repay us later' model, we will support many key projects and leave a lasting legacy to fund regeneration in Scotland for many years."