Agricultural Bank of China share issue set for record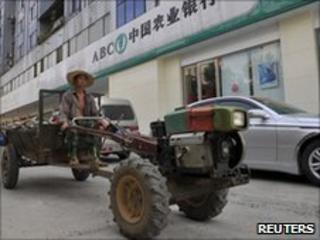 The Agricultural Bank of China (Agbank) has priced its public share issue and looks set to raise a record $22.1bn (£14.6bn), reports suggest.
Agbank is selling 25 billion shares in Hong Kong at HK$3.20 (41 US cents) and 22 billion in Shanghai at 2.68 yuan (40 US cents), the Chinese government said.
Further shares are being made available to underwriters of the flotation.
China's largest state-owned bank, ICBC, raised $21.9bn in 2006 - currently the biggest public share offering.
Agbank will officially announce the share pricing on Friday.
It is the last of China's big four state-owned banks to make its shares available for open trading on stock markets.
Retail investors in Hong Kong had queued outside bank branches to pick up the Agbank prospectus.
In it, the bank listed the Qatar Investment Authority, the Kuwait Investment Authority and the UK's Standard Chartered Bank as major foreign investors in the share issue.
Question marks
Original forecasts had put Agbank's share offering at more than $30bn, but China's stock markets have recently hit a 15-month low, and there are question marks over the bank's profitability.
Unlike its nearest competitors, its customer base is in China's rural areas.
Some analysts say that Agbank is the weakest of China's largest banks, due to bad loans on its books and its focus on rural China.
However, it reported a profit of 65bn yuan ($9.6bn; £6.4bn) in 2009, up from 51.5bn yuan in 2008. It predicts a 2010 profit of 82.9bn yuan.