Newspaper review: Mixed views on torture inquiry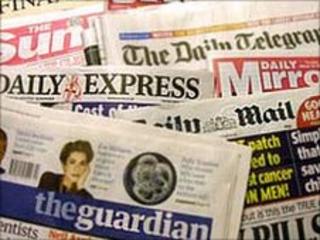 News of an inquiry into claims UK security services were complicit in torture has triggered mixed views.
The Daily Mail leads on the story under the headline: "Britain's dirty torture secrets to be laid bare".
The Daily Telegraph says it is a sad day when a country is required to put its own security services in the dock.
But the Times welcomes the inquiry, saying the UK has force and conviction, and the Daily Mirror says we must prove we are better than al Qaeda's killers.
Dragnet eluded
The hunt for suspected gunman Raoul Moat continues to command attention.
The Sun says hundreds of people in Rothbury - the town where he is thought to be hiding - are living in fear.
The Guardian's headline reads: "A campfire spotted and car found, but still Moat eludes the dragnet".
And the Daily Mail asks the intriguing question: "Is he hiding in the woods or has he managed to slip away?" It points out that there has not been a definite sighting of him since Saturday.
Treasury post
The Daily Mail also reports that 60 MPs have backed calls to change the May date of a referendum on voting reform.
It says they are angry the vote is due on the same day as Scottish Parliament and Welsh Assembly elections.
The Independent says there is a vacancy at the Treasury for an adviser with a fig leaf to mask the spending cuts.
It questions why Sir Alan Budd, chairman of the Office for Budget Responsibility, is leaving his job only weeks after it was established.
Beauty in mask
On the fifth anniversary of the London bombings, the Sun has a picture of a woman it calls "7/7's face of hope".
The Independent tells us the sight of Davinia Douglass with a surgical mask covering horrific burns became one of the enduring images of the attacks.
The Daily Express says she has quietly rebuilt her life, first recovering, then graduating and recently marrying.
The Daily Mail calls her the beauty in the 7/7 mask, and the Daily Telegraph says her skin now has barely a mark.