Eastern Airways plane named after comedian Ken Dodd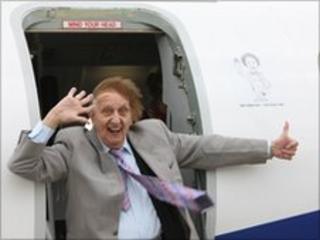 Veteran comedian Ken Dodd has had a plane named after him by regional airline Eastern Airways.
A special caricature of the famous son of Knotty Ash has been painted on the fuselage of the Jetstream 41 aircraft as tribute to the star.
Dodd, 82, was present at the unveiling at Liverpool John Lennon Airport.
He said he was "delighted" the airline was naming a plane after him. "I'm also feeling very plumptious about it," he said.
His famous welcoming line - "How tickled I am!" - is written below the caricature.
Darren Roberts, from Eastern Airways', said: "We're thrilled to have one of our aircraft named after Ken Dodd.
"Ken is a comic legend in Liverpool, a leading icon and supporter of the city and airport and we felt this was an appropriate way to pay tribute to him on our first anniversary of flights from Liverpool.
"Passengers climbing the aircraft steps will see his caricature and name as they board our Liverpool flights, and the aircraft will also fly throughout the UK and Europe."