Fabio Capello effigy strung-up by Sticker village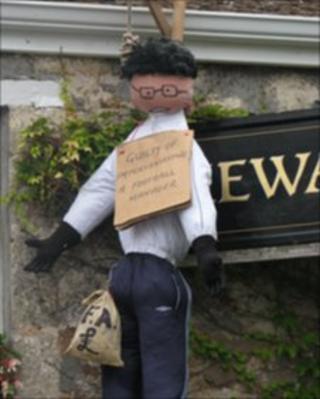 A Cornish village has made an effigy of England football manager Fabio Capello to vent their anger about the team's performance at the World Cup.
Villagers in Sticker put it up outside Hewas Inn following the team's exit from the tournament.
A sign saying "Guilty of impersonating a football manager" and bags of money hang from the model's body.
Landlord Dave Rowe said the effigy would be taken down "when England get rid of him."
Cornish speaker
He said: "We've got plenty of good players that could run the team better than he could."
Football fan Matthew Stokes from Sticker said: "Him being up there has vented a lot of people's anger.
"I think as a nation none of us are happy, but I think seeing him up there lets everybody let off a little bit of steam, it's a bit of a joke.
"We think our scarecrow down here might be a good substitute, even though he speaks Cornish."
England were knocked out of the World Cup with a 4-1 defeat by Germany.