Three men arrested after theft from a Guernsey jeweller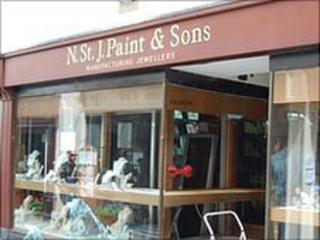 Police in Guernsey have three men in custody in connection with a burglary at a St Peter Port jewellers.
A smash and grab raid on N St J Paint and Sons on Tuesday saw £100,000 worth of gold and jewellery stolen.
Det Insp Ashley Nicholas said two local men aged 26 and 27, and a 40-year-old man from the UK were arrested near the Rockmount Hotel at Cobo on Tuesday lunchtime.
He said some of the stolen items, which were uninsured, had been recovered.
Det Insp Nicholas said: "It's too early for me to say exactly what we've recovered because there is a large number of items and we are engaging with staff at the jewellery shop... and obviously that is going to take a matter of time to go through and actually identify all the items."
He said the premises where the arrest took place was unconnected to the crime, but anyone who had seen the men or the officers was asked to come forward.
The raid happened before dawn about 0400 BST as thieves broke through a security grille and then smashed through the armoured glass front window with a sledgehammer.