Arrests after gate crushes six-year-old Manchester girl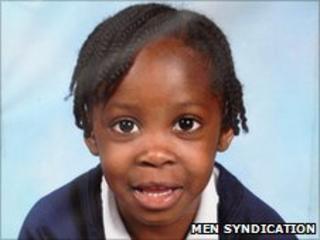 Two men have been arrested after a six-year-old girl was crushed to death by an electric gate in Manchester.
Semelia Campbell died after being caught between the rolling gate and a brick post near her home in Moss Side on 28 June.
The two men, aged 38, were arrested on suspicion of manslaughter by gross negligence.
Both men were released on bail on Wednesday afternoon pending further enquiries, police said.
Her mother Judith Gilroy desperately tried to stop the gate closing with her fob key and then switched off the electricity but she was unable to save Semelia.
'Beautiful and exceptional'
The gates at the entrance of flats off Maine Road in Moss Side have since been locked open, Greater Manchester Police has confirmed.
It is understood the two suspects work for the contractors who installed the gate.
The six-year-old had been playing with her friend when she got trapped, and despite the efforts of her mother, the gate would not stop moving.
A police officer smashed the motor on the gate to stop it closing further and pulled Semelia out but she went into cardiac arrest.
Paramedics took her to the Royal Manchester Children's Hospital where she died a short time later, the ambulance service said.
Ms Gilroy, who had moved to the new development three weeks before, described Semelia as "beautiful" and "exceptional".
She said shortly after the accident: "Maybe she thought she could just get through it and it closed on her.
"It wouldn't open and she just died."
Greater Manchester Police and the Health and Safety Executive are investigating the incident.