Warwickshire fire service stations facing closure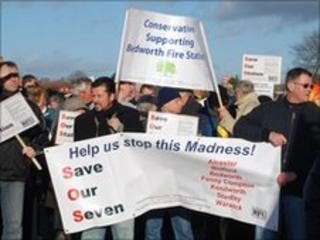 Four Warwickshire fire stations face closure under fresh plans to shake up the county's fire service.
BBC Coventry & Warwickshire has been told that Warwick, Bidford, Studley and Brinklow could all be shut if the plans are approved.
It is also thought Bedworth would lose one of its fire engines, which would be replaced with a smaller tender instead.
Warwickshire County Council is due to make a decision on 20 July.
It is understood Chief Fire Officer Graeme Smith has come up with three new options which will be put forward for councillors to consider.
The first option, thought to be the one containing most closures, would see the closure of four stations.
It is understood Fenny Compton and Kenilworth would remain open, as would Bedworth.
One of the other options would include the closure of stations at Warwick and Brinklow, with Bedworth again losing one of its engines.
The final option involves the closure of at least two stations, but it is not clear which.
Warwickshire County Council is expected to publish the proposals on Monday with a cabinet meeting being held on 20 July.Stations face closure in shake-up
It was announced last year that Warwick, Bidford, Brinklow, Kenilworth, Studley, Fenny Compton and Bedworth stations are under threat of closure.
The council has said the changes were not designed to cut costs but to improve services.
Warwickshire County Council has not yet responded.
Protest marches against the closures have been held and petitions handed in to the council.
Fire Brigade Union Secretary Mark Rattray said he had been made aware of the options but that he would not comment until staff at the affected stations had been spoken to.
Karen Scarrott, a Warwick district councillor who organised a protest march against the closures, said she was "disheartened" by the news.
"I have been fighting these proposals since they were announced and I shall carry on fighting them," she said.